Conveniently buy or sell cryptocurrency without commissions or required verification. You can make an exchange on p2p sites directly with another member of the site, a person, not the algorithm of the exchange. This article describes six popular exchanges for buying or selling Bitcoins and other cryptocurrencies in p2p mode.
These platforms are similar to LocalBitcoins, so they can be called analogues. After all, the service is far from unique and there are many alternative sites operating on the Internet. The ranking is based on the volume of liquidity at the exchanges, as well as their convenience and reliability.
In case some exchanger does not open, use Opera browser with VPN enabled.
Peer-to-peer exchanges similar to LocalBitcoins exist not only for Bitcoin, but also for other cryptocurrencies. Here are examples of the most popular P2P services that provide decentralized exchange of cryptocurrencies, including USDT. In practice, only exchangers for BTC and ETH exchanges gained some popularity. Let's take a closer look at the 2 most popular services for exchanging these cryptocurrencies.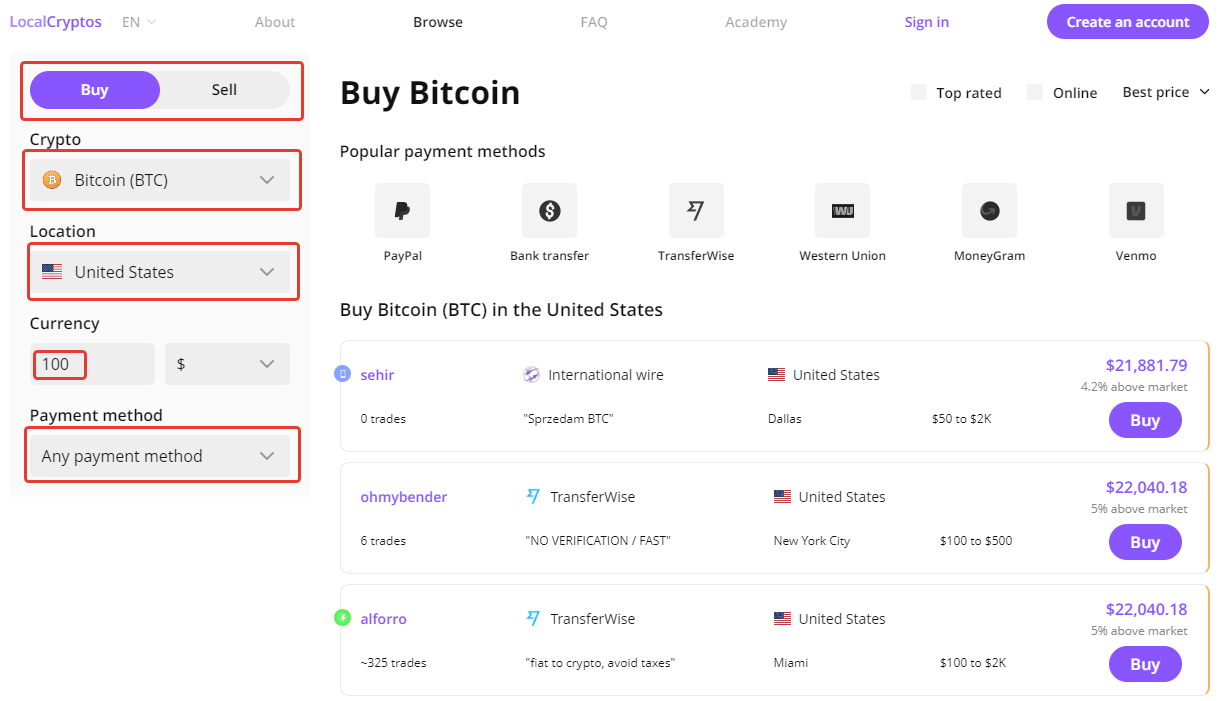 P2p service Localcryptos, old name LocalEthereum, originally created to work with ETH cryptocurrency. You can now buy and sell Ethereum, Bitcoin, Litecoin, Dash, Bitcoin Cash on the platform. Traders from all over the world make transactions with cryptocurrency on the platform via bank cards, payment systems, electronic wallets. In some countries, it is possible to buy crypto for cash by meeting the seller in person or going to an offline exchange office.
To get started with the site, click below and click "Create New Account". After completing the registration, you will be taken to the ads page where you will be able to set the required search parameters. To open a trade, click "Buy" or "Sell" under the trader's nickname and follow the instructions.
If the site doesn't open, use Tor, Opera VPN or another blocking solution.
The main advantage of LocalCryptos is the ability to trade small amounts of money. Many sellers limit the amount of buying and selling to 100 dollars, while exchangers often put a limit of 300-400. The aggregate commission per p2p transaction is 1%. When working with any payment method, the exchange rate will be 5 to 10% less favorable than in exchangers.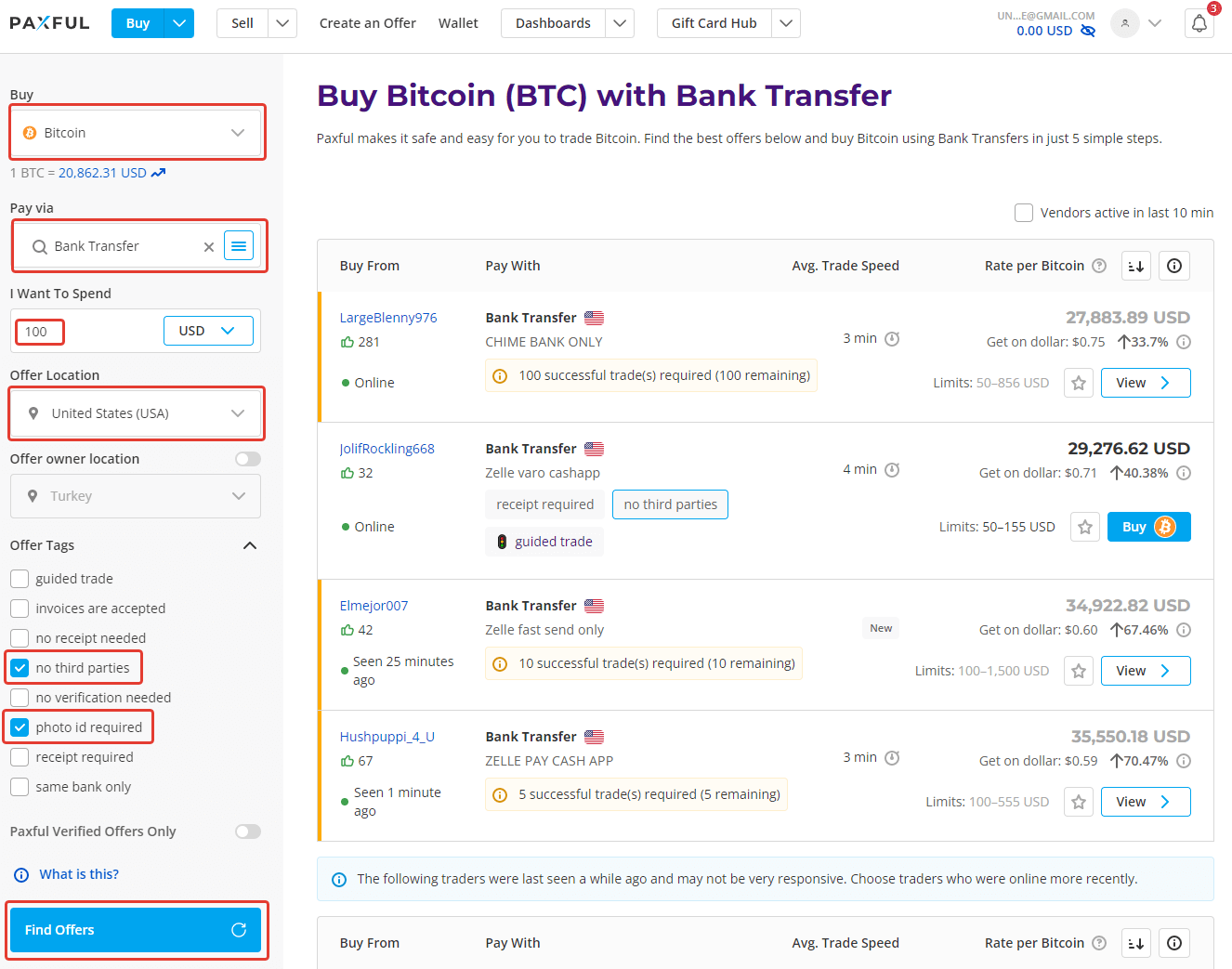 It is very easy to buy bitcoin on this marketplace. Paxful is a peer-to-peer marketplace with over 460 payment options to choose from! The first step in buying bitcoin is having your own wallet. In Paxful, when you create an account you get a digital wallet for Bitcoins, Etherium, Tether cryptocurrencies. Paxful Wallet is available on iOS and Android. Once you are logged in, click "Buy". Select USDT, Ethereum or leave it on Bitcoin by default.
Enter the amount in fiat that you are willing to buy the cryptocurrency for. Paxful offers over 460 payment options. From Amazon gift cards to bank transfers, card-to-card and all popular e-wallets and payment systems (Skrill, PayPal). When all this is done, click the "Search" button and you will be able to see a list of sellers. Explore positive reviews and payment methods. Find an offer you like and click buy. This will lead you to a customized offer and p2p deal.
Once you read the seller's offer, it will open a trade with instructions in the chat window. When the transaction starts, the seller's bitcoins will be allocated to you by Paxful. Only the buyer can cancel the transaction at any time. Follow all instructions for a successful transaction.
Send the necessary files, documents and make payment. Once this is done, click the "I've Paid" button. If the buyer fails to make payment within the allotted time, the transaction will be cancelled. When the buyer and seller are verified, all conditions have been met, the bitcoins on the seller's side will be released and transferred to your wallet inside the exchange.
You have now purchased your first bitcoin on this site! Paxful makes buying and selling bitcoin safe. So create a Paxful account today!
P2P service Pexpay is much better known in the space. This platform provides an API for p2p trading on the Binance exchange. Surely, you will find similar interface and functionality when making transactions. Several dozen bitcoin exchange offers can be found on this website. The exchange rate is still less favorable than on LocalBitcoins: the difference is 1 – 2% depending on the payment method. At the same time, it will be quite difficult to exchange e-money, as most users only work with bank cards.
Unlike Paxful where you can only buy 3 cryptocurrencies, Pexpay supports USDT, BTC, ETH, BUSD, USDC, BNB. The site doesn't subtly hint that it is affiliated with the largest cryptocurrency exchange, Binance. Which generally inspires confidence because of the exchange's near-perfect reputation as the world's No. 1.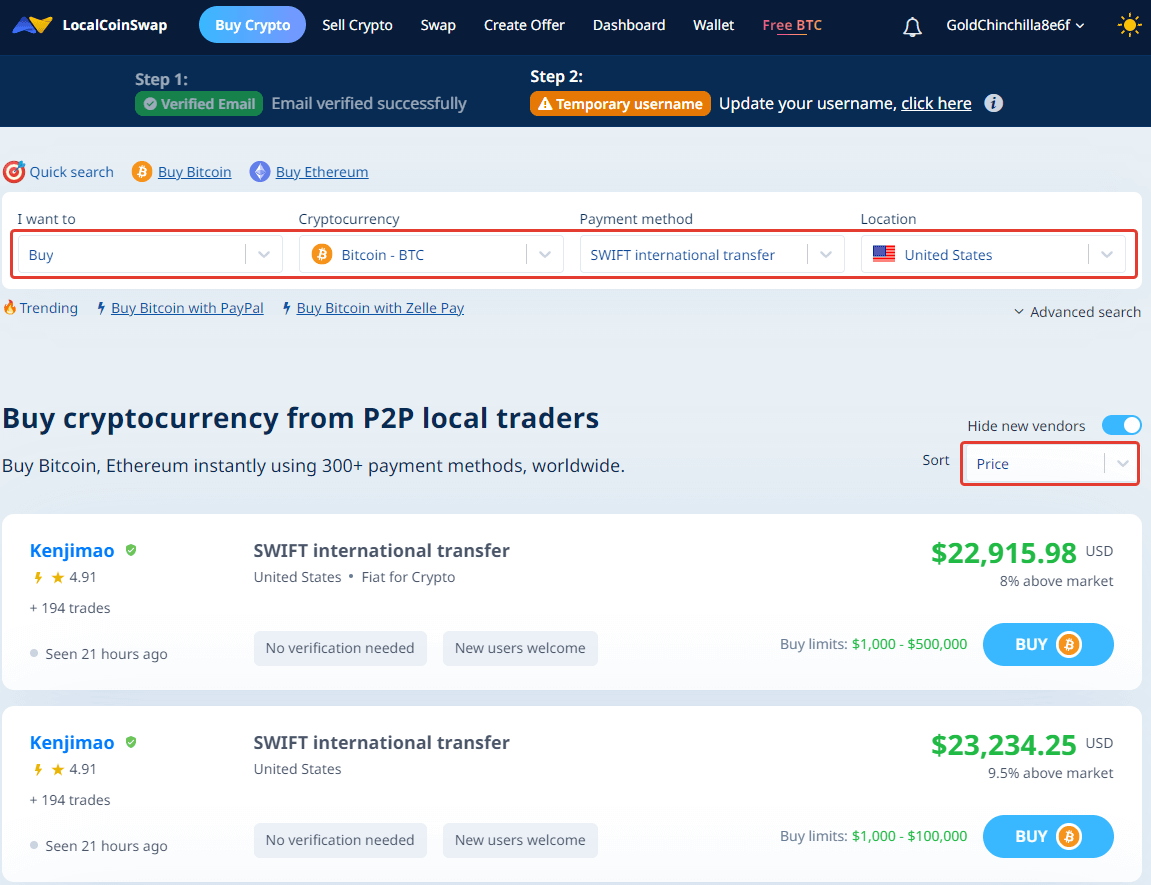 The site has a not quite normal p2p system of buying and selling cryptocurrency. On Localcoinswap you can buy or sell local currency the way you want, and later buy or sell cryptocurrency for it. The site supports: BTC, ETH, DOT, USDT and other cryptocurrencies worldwide with over 300 payment methods.
On the LocalCoinSwap platform, you can find exchanges with gift cards from various stores and services. All popular banks and payment systems are supported. Buy bitcoins instantly via bank transfer, cash and hundreds of different payment methods. Trading P2P on LocalCoinSwap is the easiest way to buy bitcoins and expand your cryptocurrency portfolio.
Keep in mind that large cash transactions are always a higher risk.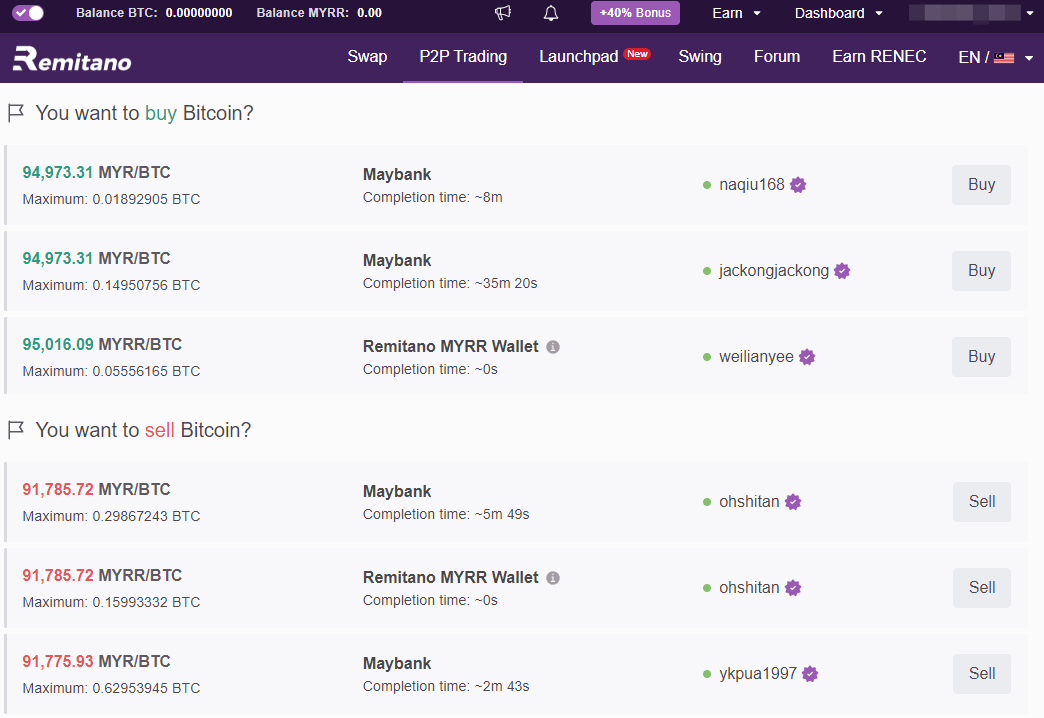 Remitano provides a P2P trading platform where people buy and sell Bitcoin. The exchange is easy and secure, with a simple user interface. 24/7 online support. The lowest commissions compared to other p2p exchange marketplaces.
The most popular countries for Remitano exchanger: Viet Nam, Malaysia, Nigeria, Germany, France.
The exchange supports the following cryptocurrencies: Tether USDT, USD Coin, Bitcoin, Ethereum, Bitcoin Cash, Litecoin, Ripple, EOS, Binance Coin, Cardano, Stellar, TRON, Tezos, Chainlink, Ethereum Classic, Monero, Polkadot, Uniswap, Dogecoin, Solana, Avalanche, NEAR Protocol, Binance USD, Axie Infinity, Polygon, Shiba Inu.
Over its lifetime, Remitano has made $9B+ worth of exchanges. The platform supports cryptocurrency transactions in more than 50 countries. More than 3.2 million people have made transactions on the site since then.
We found a lot of offers for peer-to-peer exchange of dollars to Bitcoin, so for users from the listed countries the system will be useful.
The peer-to-peer exchange Remitano offers apps for iOS, Android, MacOS, Windows devices. Use apps to make exchanging cryptocurrencies even more convenient.
An internal exchange account is used to transfer cryptocurrency during a transaction. Without this feature, it would not be possible to implement a dispute resolution mechanism.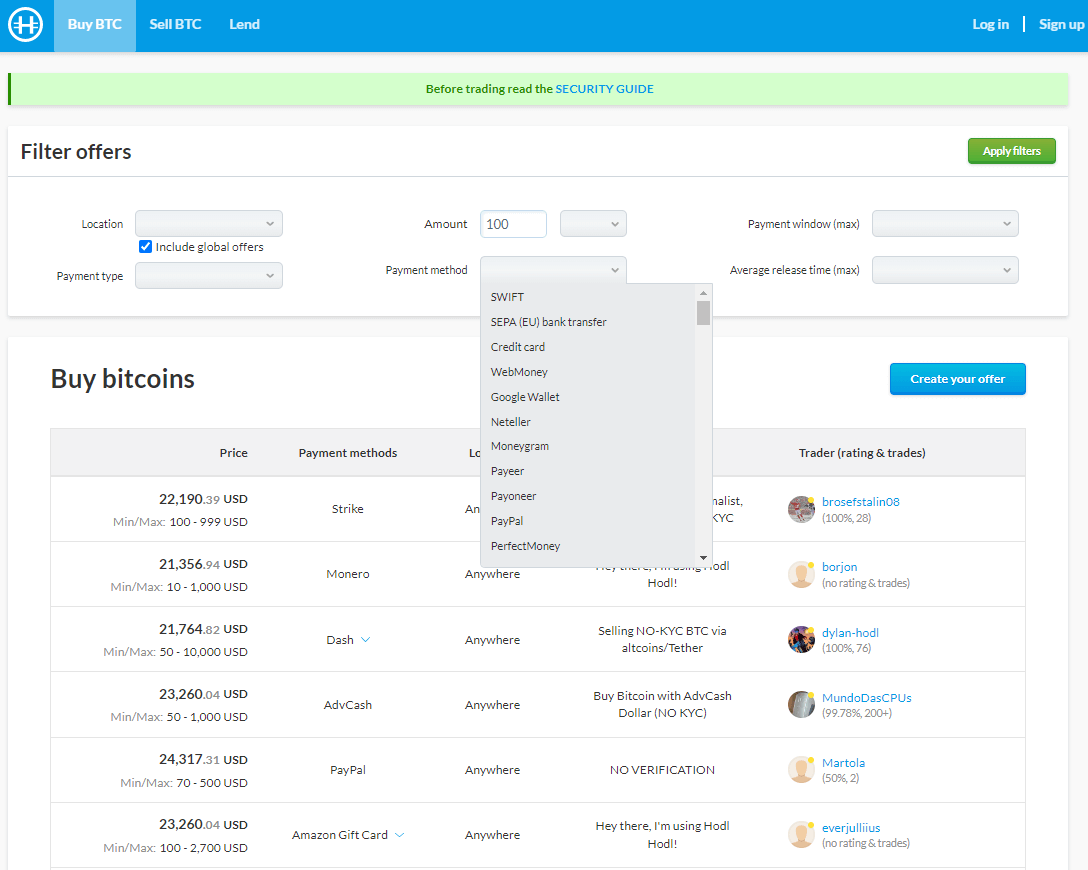 What Hodlhodl is, it is a p2p cryptocurrency exchanger with its own cryptocurrency exchange. On it, you will only be able to buy Bitcoin, but payment for the transaction can be made in completely different ways. For example, you can pay with a bank card, bank account transfer, payment systems, or even altcoins: Litecoin, Ethereum, Bitcoin Cash, Dash, Doge coinand stabelcoins: USDT, USDC, DAI.
You can pay for your Bitcoin or other crypto purchases in a variety of local currencies, depending on your country of location, including, the US Dollar and dozens of local currencies from almost every country in North and South America.
In general, Hodlhodl is a P2P Bitcoin trading platform that does not store your funds, but only acts as a guarantor in transactions. Use hundreds of local currencies around the world and trade cryptocurrency anywhere.
Let's summarize
Thus, all LocalBitcoins exchange counterparts suffer from a common flaw – relatively low popularity. This makes the exchange rate unprofitable. The security of alternative platforms that allow users to self-exchange fiat money into bitcoins also remains questionable. A truly reliable option can only be called Bisq, but so far this exchange has not gained much traction.
The only guarantee of safety of funds in the account of a p2p-exchange is its reputation. The user does not have direct access to the exchange wallet: If something happens to the site, the funds in your account may be lost forever. To minimize this risk, withdraw the cryptocurrency to your own wallet immediately after completing the transaction.
You can exchange fiat for bitcoins not only on LocalBitcoins. Altetrnative sites appear regularly, but the most popular ones have been: Localcryptos, Paxful, Pexpay.